Is a Certified Window Cleaner a Better Window Cleaner?
In a word: Yes! Whether you're looking at it from the perspective of the company, the employee or the customer … yes, yes and again, yes!When you think safety you think "avoiding injury". That's certainly the most important reason to ensure it; however, when you think of everything that can be either positively or negatively impacted by the presence or lack of safety … everything from production, quality, customer relations and profitability is...
When is the best time to have your windows cleaned?
We get this question quite frequently. If you're having your windows cleaned for a special event or because you're expecting out of town guests,try to schedule service for three (3) days ahead of the event or arrival date. This will ensure that there is timeto reschedule in the event that weather prevents service from taking place on the original service date. Outside of that, anytime is a good time. We have residential customers that prefer a full service in Spring and late Summer because...
How often should I have my windows cleaned?
Perhaps the most frequently asked question of all. Your windows are going to start getting dirty soon after cleaning them,that's why many commercial customers have us out monthly (in some cases even bi-weekly). So the question is really, how dirty do you want to let them get. How close you are to trees and foliage, how clean or dirty is your brick or siding and what is your proximity to dust and dirt from the road or local construction. Your preference, mixed with the answer to those...
Should I Clean My Own Gutters?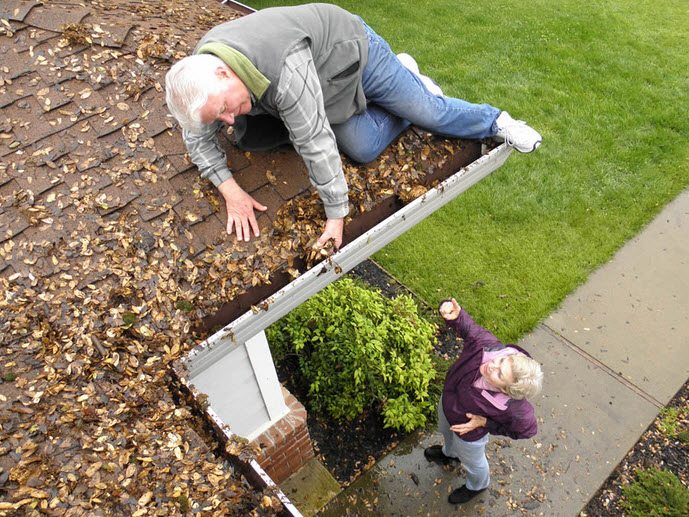 The answer, probably not. There are a lot of gutter companies in the Dayton, Ohio area that offer gutter cleaning services to their customers.  Here are some things you should look for when hiring a gutter company to clean your gutters.  Insurance is a must, get a copy from the underwriter showing that the liability and workers-comp. insurance is in effect when they do the work.  How long have they been in business?  Your home is usually one of your biggest assets; you don't...
Benefits of using a professional window cleaning service
A professional window cleaner has the necessary skill and equipment to perform a tedious and often high risk service effectively, efficiently and safely. Here are a few good reasons why businesses should hire professional window cleaners: 1. Image The first thing that a client will notice in an office is its appearance. Appearances do matter in business. It is a reflection of how the office operates. If an office is sloppy in its cleanliness, it is more likely to be sloppy in its business....
Pride Master Inc. 2016 All Rights Reserved
Pride Master Inc.- 500 N. Irwin St. - Dayton, OH - 45403 - 937-233-0192