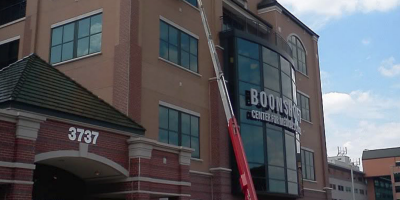 Commercial Widow Washing Services in Dayton Ohio     
by Pride Master Inc.
Our current commercial window cleaning in Dayton Ohio and surrounding area customer base, includes a multitude of hospitals, several high rise buildings, dozens of low rise buildings, a couple of large retirement communities, manufacturing facilities, car lots and store fronts. Not only are we capable of providing high level window cleaning service to any type of commercial building, we do it every day; and every customer receives the same high level priority treatment.
Have you ever wondered what kind of impression clean windows leave your customers or clients with?  If the windows of your office building are caked with dirt, coated with hard water spots, or covered with streaks, you've come to the right place. Pride Master Window Cleaning can provide you with expert commercial window washing services for your office or business that will make your windows shine.
Pride Master Window Cleaning can handle any job, no matter how big or small. We take pride in our window washing services and we're committed to your 100% satisfaction. You'll be glad to know our commercial window cleaners are professional, courteous, and meticulously neat. They'll never leave a mess behind or track dirt or mud onto your office's carpets or outdoor area. Our window cleaners will treat your business with care and leave nothing behind but sparkling-clean windows every time.
To better meet your needs, Pride Master Window Cleaning also offers weekly, bi-weekly, monthly, quarterly, and annual window washing service plans for office buildings and businesses. Our window cleaning service plans are a hassle-free way for you to enjoy clean windows year-round.
Don't forget that we can provide you with Additional Services while they're at your office building or place of business, see our Special Services page for more information.
As one of the top commercial widow cleaning contractors in Dayton Ohio, you can depend on Pride Master Inc.
Let our committed team meet your needs and the needs of your building. Whether you are a business owner, property manager, facilities director or engineer, we have experience working with businesses who mean business when it comes to your commercial window cleaning service needs.
We are glad to provide all insurance and documentation for compliance as vendors.  Pride Master Window Cleaning is able to bid on State, City and County Jobs as requested.
If your need is for a High Rise window cleaning service in Dayton Ohio, we are professionals in that market as well.
You can also reach us with any questions about our commercial window cleaners and office and business window washing services through our Contact Us page.
Pride Master Inc. 2016 All Rights Reserved
Pride Master Inc.- 500 N. Irwin St. - Dayton, OH - 45403 - 937-233-0192