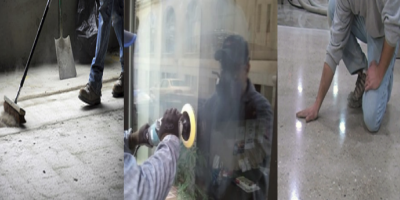 Additional Special Services Offered



by Pride Master Inc.



The following services are offered only to continuous service customers (with some exception).
Post Construction/Renovation:
Our Post Constuction/Renovation service includes removing manufacturer labels, paint, mortar, drywall, caulk and any other debris from the glass using a mild cleaning solution, steel wool and safety blades. Our crews are trained and experienced in the correct technique to handle difficult scrubs without damaging the glass.
*Razor blades, when used correctly, will not scratch glass, however; debris picked up from the glass surface such as mortar and/or glass fines definitely will. Keeping the glass wet, moving the blade in only one direction, and changing blades often will help reduce the risk of damaging your glass.
Glass Restoration:
Hard water and calcium are difficult to remove and the process is highly labor intensive; requiring steel wool, special chemicals and anywhere from five to thirty minutes per standard size plate (4' X 6') depending on the severity. If you would like to know more about what causes calcium and hard water damage, what you can do to help prevent it and options available for restoration … send us an e-mail from the contact us page of this site.
*Sealing any precast concrete, ensuring that sprinkler heads are not spraying directly on the glass or building, and applying protective products such as "Invisible Shield" or "3 Star Barrier" on any glass that may be subject to calcium leaching, will help prevent costly damage.
Concrete Sealing:
While not our bread and butter, we are highly proficient at cleaning and sealing the pre-cast concrete panels that are the primary cause of most calcium damaged glass. Our experience includes a four story hospital, an eight story office building and a two story industrial facility.
We start by cleaning the building exterior and then seal the concrete with a penetrant type sealer that is guaranteed for ten years and will not alter the look of the building. Not only is the glass protected from calcium, the life of the concrete itself is increased due to the prevention of cracking and peeling caused by the expansion and contraction of moisture absorbed by the concrete.
While this service does tend to be a bit pricey, the fact that we don't rely on this service to thrive has allowed us to price this service for nearly half the price of competing bids.
Caulking / Removal / Replacement:
Our high rise customers have benefitted, on numerous occasions, from our ability to take care of their caulking repair needs. Finding contractors that can handle high rise building maintenance can be difficult and doing so at acceptable cost is nearly impossible. For us, high rise access is a breeze and we are more than happy to help our customers with any task our crew is qualified to perform.
Pride Master Inc. 2016 All Rights Reserved
Pride Master Inc.- 500 N. Irwin St. - Dayton, OH - 45403 - 937-233-0192